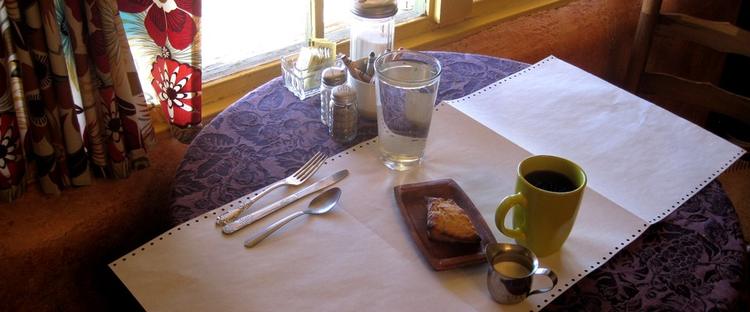 NOTE: This piece was originally posted on Feb. 7, 2012 but it deserves another posting. I have been meaning and wanting to go share a meal with Ki and Kai to talk about their love of cooking but, as you all know, I've been paring back on everything in order to spend more time at the easel. Not having made the time to go talk with them yet, I wanted to remind you all about the jewel of a bistro we all have available to us on the High Road. And for any of you planning trips here, they are a "must" on your itineraries.
I have been a much more regular visitor to the restaurant since this original posting and I want to say that, knowing it more intimately, it is everything I promise in this post and more. They always begin every meal, every cake, every dish, with the very best ingredients available. They never scrimp because of costs, and this is just one of the many ways the Sugar Nymphs shine above so many others.
The Sugar Nymphs will host a special meal celebrating a holiday or a type of cooking about once a month through the summer and I highly recommend your trying to go. I attended an evening of Asian cooking as well as their Foods of Provence night and they were special evenings indeed.
So I hope you all will go pay Kai and Ki a visit. You will be very happy that you did. JGW
The Sugar Nymphs Bistro, Peñasco, NM
One thing we lack up here on the High Road, I will readily admit, is restaurants. There is Rancho de Chimayó in Chimayó (see previous post Happy Holidays!). A great general store is being built in Truchas that will house a coffee bar, deli and ice cream counter for starters and a restaurant/cafe eventually. And then we have the wonderful Sugar Nymphs Bistro in Peñasco.
Even if we were blessed with a wealth of eating establishments, the Sugar Nymphs would still be a favorite. The food is always wonderful—most often offering comfort—and their baked goods are sublime. Just a short 20 minute drive from Truchas, down the mountain toward Taos, it is a frequent choice, especially for Sunday Brunch, which I happily treated myself to recently.
Their tag line, "country atmosphere, city cuisine" couldn't be more apt. It is always a surprise to be so far off the beaten path and yet to find such sophisticated dining–a lovely combination to be sure. The day I was there they were offering Beef Daub (braised beef and mushrooms in a brandy, cream sauce) along with more traditional breakfast fare. Their complimentary scones are always a special treat.
The two partners who created Sugar Nymphs Bistro, Ki and Kai, came to the area in 2000. They chose Peñasco in large part because of the active community there (Peñasco has a thriving artist's community, among other things: Gaucho Blue Gallery, Marx Gallery, Walking Woman, Art for the Heart to name a few), and also because they were able to rent the historic Peñasco Theatre in which to house their business.
As stated on their menu, "Ki is the pastry chef/owner of the Bistro. She has baked most of her professional life with a segue into Archival Framing from time to time. Kai learned to cook professionally at the San Francisco Zen Center Restaurant, Greens. She has been a chef and restaurant consultant her entire professional career, teaching meditation in her spare time and painting and doing sculpture when she can."
But the restaurant isn't all you'll find at the historic theatre. Ki and Kai have put it to very good use. The Peñasco Theatre Collective is based there. It is a project of the nonprofit organizations Wise Fool New Mexico and Art for the Heart (see Wise Fool New Mexico).
Operating on the premise that, "… circus and puppetry are inherently revolutionary art forms that empower individuals and enrich lives…" the Collective offers camps, after-school and classes for locals as well as artist residencies and performances. As stated on their website, "It is Wise Fool New Mexico's mission to ignite imagination, build community, and promote social justice through performances and hands-on experiences in the arts of circus, puppetry, and theatre. Changing lives, one circus at a time." Obviously, I need to get to a performance one of these days to share with you on the blog.
The Collective also offers films on Friday nights and cabaret performances to help raise money for their projects. Check their website for all schedules.
Ki and Kai will be hosting a special Valentine's Day dinner on Tuesday, February 14th. Check their website for specifics.
During the winter, especially, it is always a good idea to call for hours before taking the lovely drive up the High Road to pay them a visit. Personally, I can't wait to go back.
Sugar Nymphs Bistro

15046 State Rd 75

Peñasco NM 87553

(575) 587-0311