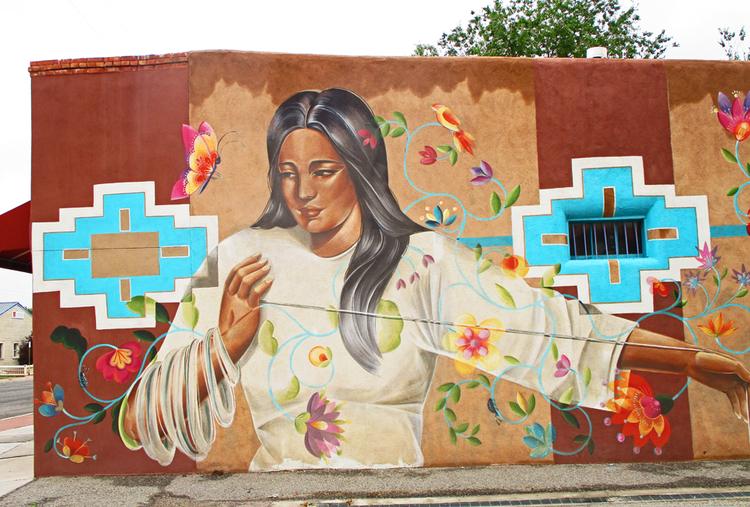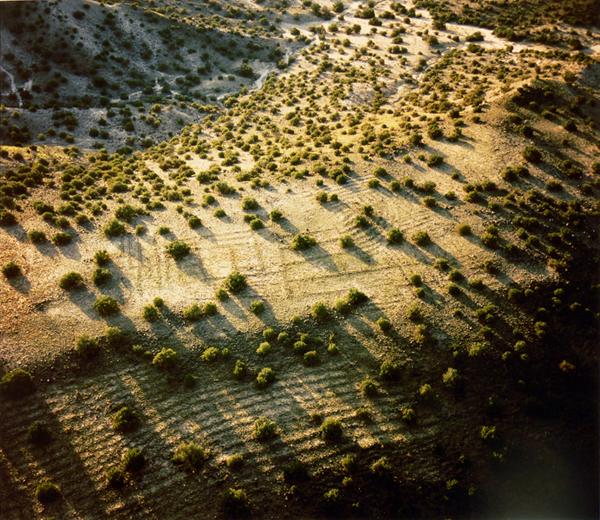 This is the second part of a two part story. Here is a link to the first part: http://high-road-artist.com/17288/southwest-history/the-espanola-valley-part-1/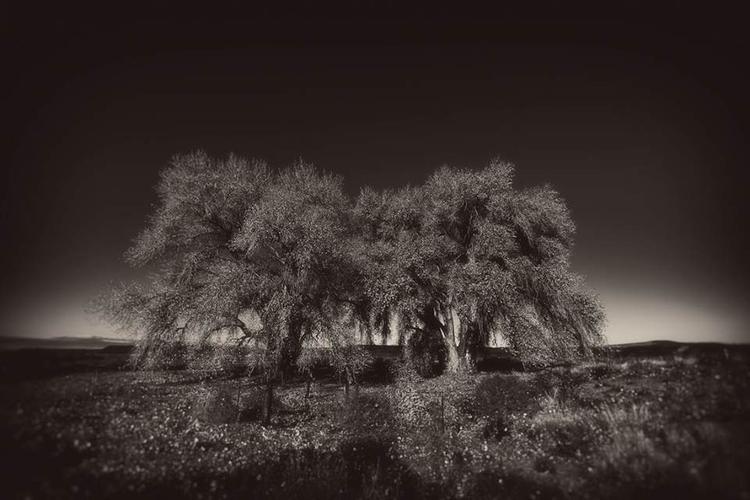 As written by Camilla Trujillo in, Images of America, Española, "… the colony [meaning Oñate's colonists] upsets an ancient balance, for others have lived on this land for thousands of years. Unstoppable historical forces have been set into motion. It will take 100 years to bring stability to a complex dynamic of invasion, displacement, and resistance."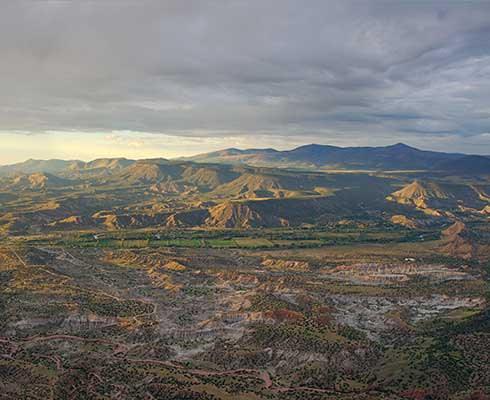 Many Spanish and Mexican settlers, rather than conquistadors this time, returned throughout the valley once much of the warring between the Spanish and Pueblo people had ended in the late 1600s and early 1700s, with agreements having been reached between them. Established along the west side of the Rio Grande, Española, was referred to at the time as La Vegas de los Vigiles (Vigils' Meadow), for the Vigil family who initially claimed the land.
It became a frontier outpost and a farming community with records dating back as early as 1751. In many ways the small hamlet was what the Tewa had hoped for when Coronado first came to the valley–a peaceful group of individuals that expected nothing from the Pueblo, with whom to trade and find added defensive support.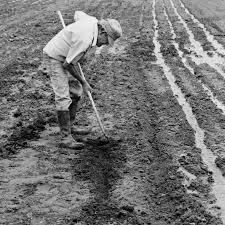 By December 1880, the Denver & Rio Grande Railroad had brought track down from Colorado to Española and in 1887 the Santa Fe & Northern Railroad route was completed from the south, connecting the Chili Line from Española to Santa Fe. Supporting the growth of the village on the west side of the Rio Grande near its depot on Oñate Street, Española prospered as a railroad commercial center. Apples, sheep, pinenuts, wool and semi-precious stone shipped out of the region, while lumber from the nearby lumber camps where valley men were finding work, was shipped in.

My friend, Irvin Trujillo of Centinela Traditional Arts, said that the railroad brought some unfortunate change to New Mexico. Americans flooded the area bringing with them their particular ideas of ownership. They started fencing land that had been free range for centuries. Livestock could no longer forage where they could find the most sustenance. Some people thrived while others lost.

Interestingly, he said the railroad was also partly responsible for bringing tin art to New Mexico. Train travellers brought some of the first canned goods to the region and the Spanish, being used to using everything, saw the discarded tin cans as viable material and tin art was born. I've also been told that U.S. Army garrisons brought supplies from the east in tin containers. Sheets of tin were used, as well, in between packing materials within crates of goods.

But the railroad left in 1941, no longer able to compete with the cheaper trucking of goods. The livestock corrals and chutes near the depot were closed, and other large businesses and employers followed. Española began to struggle for its livelihood and identity.

It became the place people passed through on their way to Taos from Santa Fe…
The secret Manhattan Project to develop the bomb had begun up in Los Alamos and young men were leaving their family farms to find paying work there, surrendering the elderly to try to tend to generational farms that had traditionally counted on the family to manage the workload.
Española struggled with economic and social hardships. Fred Harvey brought his famous Southwestern Indian Detours through, but only stopped at the Chimayó Trading Post along the way, a beautiful old adobe complex that could hold a place in Española's revitalization.

Today Española feels as though it is a series of highways and strip malls, with no center, despite its glorious setting and its remarkable history. I'm sorry, but it's true. It sits right on the Rio Grande and there is no city park or any clear access anywhere to the river! Very few of its old buildings were saved. My heart sort of grieves for what has been squandered, wiped out. Seemingly forgotten.
Then take Santa Fe. As much as I appreciate Santa Fe's special beauty, I'll admit to having had something of an attitude about it being so "matchy matchy" as my mother would have called it, so planned, so restrictive in what builders and remodelers can do, so fashionable and rich. I even bought a book titled something to the effect of, Santa Fe Before it Was a Style.
Yet Santa Fe has saved so many of its historical buildings and the city plan honors the old one. The streets are narrow, two lane, often winding, and there are no strip malls, well, except for out Cerrillos where I guess all of that modernized kind of life was relegated. So now I have to admit it feels like they've done a lot of things right.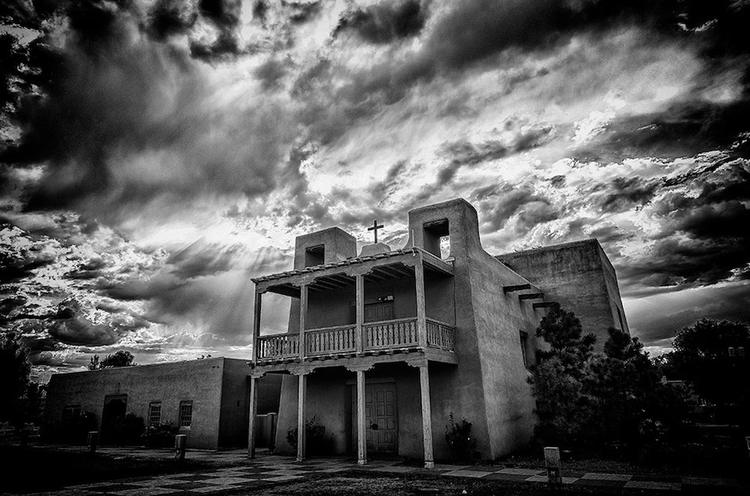 As far as Española itself goes, efforts to revitalize the town, center around the Plaza de Española which houses the Misión Museum, the Convento Galley, the Española Community Arts Education Center, the Bond House Museum and the Veterans Memorial. This poses some really big problems as I see it.

This plaza, a new construction, was built in the 1990s in an effort to convert Española's railroad town configuration, consisting of a main street with the town growing around its train depot, into more of a Spanish style village centered around its plaza. It hasn't been overly successful as it stands. And there are simple, if potentially expensive reasons why.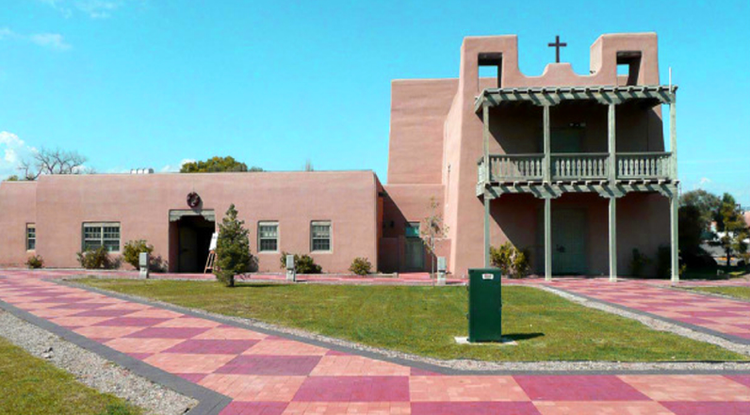 There are two main highways in Española, Riverside Drive and State Highway 285, or the Santa Fe Highway. The city wants the latter, the one that runs past the plaza, to be considered "main street," but most of us who use Española as a resource consider the first to be. So that's a problem right there. Then there's the other problem: Do either of these streets, below, look like your idea of main street? No, mine either. They're not appealing in any way and cars just speed along them, past everything. There are no places to pause.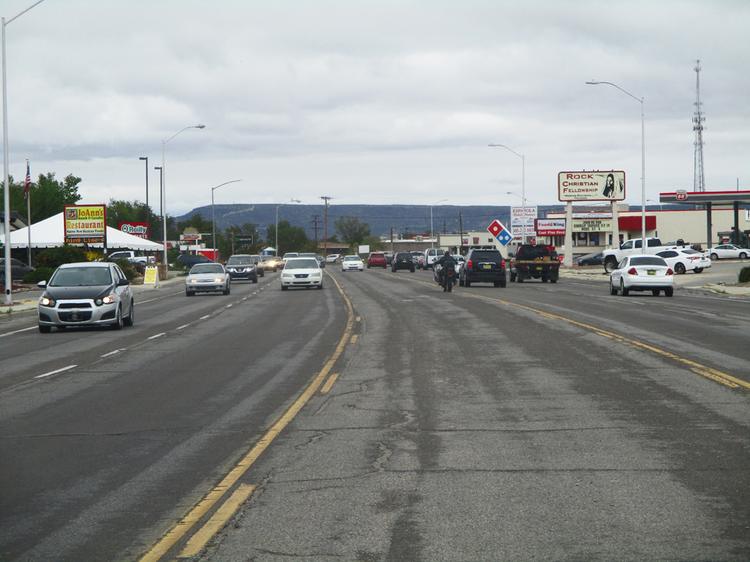 And Highway 285 is such a mishmash just as it approaches the plaza, encouraging us to drive right by. I'm not even certain where the entrance to the plaza is, but I'll go looking. And let's face it, the plaza itself is a total design jumble. It has not been made easy to find or discover, unlike Santa Fe's plaza which seems to center and anchor the town. This is Plaza de Española below…
As compared with Santa Fe's Plaza below… Note, streets have been blocked to traffic with planters.
There are already independent, fresh ideas coming to the city. Moving Arts, Española's Roger Montoya, was one of 2019's CNN Top 10 Heroes of the year. Opening their doors approximately 12 years ago, they offer "… visual and performing arts education, free healthy meals, and academic support for the children and youth of Northern New Mexico," per their website. It's a stunning program. Located in an old casino building on Ohkay Owingeh Pueblo, they say that, "At Moving Arts Española, arts are believed to possess healing powers. Through classes, students can adopt new perspectives, learn new skills and grow as people."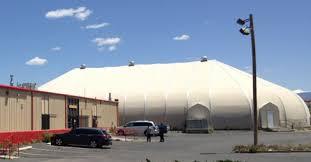 And a thriving farmers' market that has been operating for over 20 years, the Española Farmers Market, has been chosen as New Mexico's best farmers' market for 2019, an award presented at the state capital.

There is also a Low Rider Museum in the works since Española is considered to be the lowrider capital of the world. The museum's full implementation is pending the release of grant funding, but supporters hope to open on a limited basis for the Española Lowrider Day & Art Show, July 19–21 (this was cancelled due to Covid). For now there is a digital museum: https://www.espanolalowridermuseum.com/virtual-museum. For details, see facebook.com/lowriderNM, or for their website, espanolalowridermuseum.com.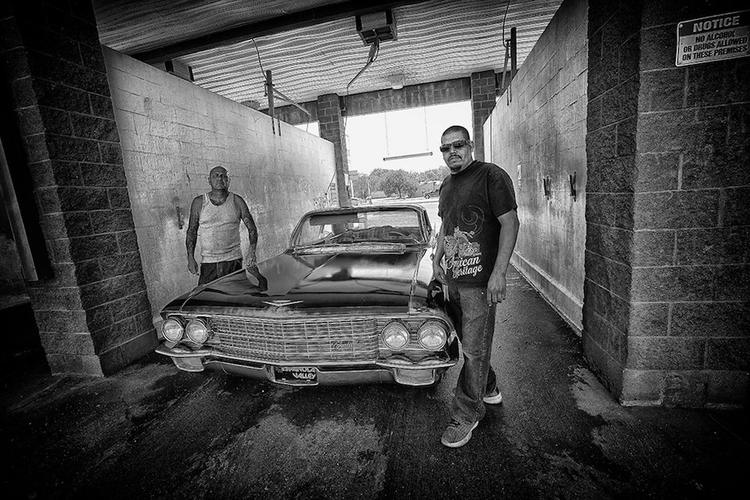 In fact there is a lot to recommend Española, but it's spread out all over town and tucked into places one wouldn't necessarily expect.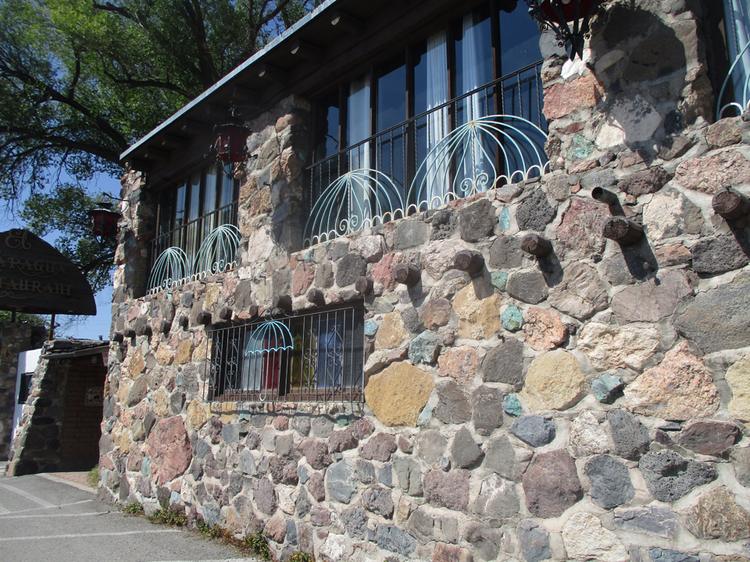 The heart of the undertaking to energize and distinguish Española revolves around the city's award winning 2017 development plan which was created through community involvement and "kitchen table discussions" as they say.
The priorities include defining and revitalizing the town center, which I think has to include that whole "old town" section of the Santa Fe Highway, which connects the Chimayó Trading Post to the east…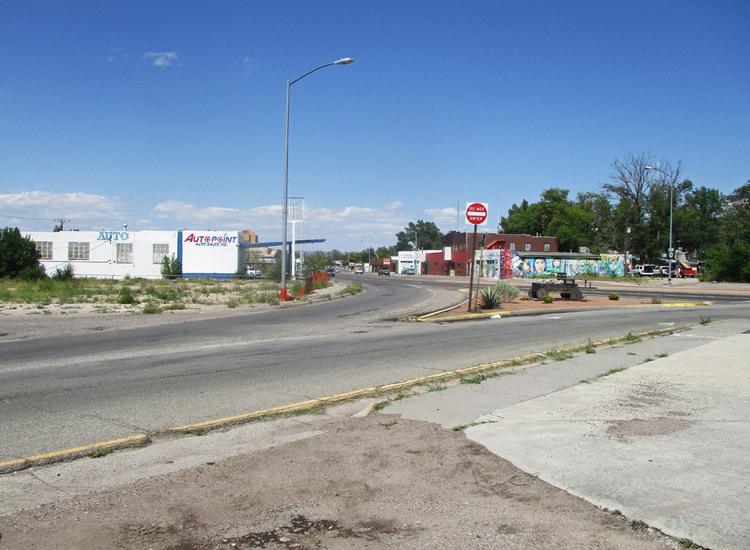 … and wraps round to North Paseo de Onate on the west, past the Española Plaza. With some changes, it could go directly to the Plaza. There really isn't a compelling road, a fun drive, that takes people into the town's center at this point, because the town wasn't created around a center. But we could create that. The Santa Fe Highway could become Española's Canyon Road. And it could be redirected, redesigned, to dump right into the Plaza, rather than pass it by.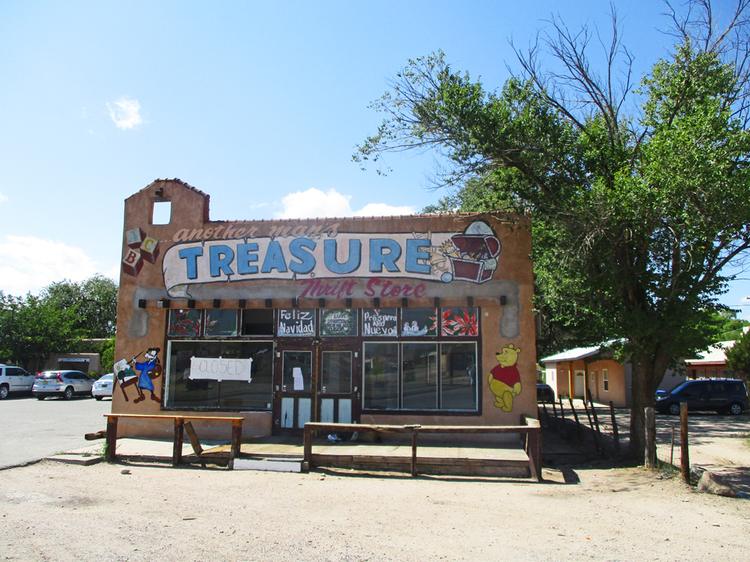 There are still some great old buildings there that should be saved. Perhaps one could be a mechanic's garage for locals to work on their lowriders, a paint shop. What about an indoor Farmers' Market and Crafts building, one in which farmers could bring together all of their produce and distribute it to restaurants, the rest to the rest of us…
… and others that could be repurposed. Maybe one could be turned into artist studios to rent out. People always need room to make their art and artists draw others to an area. A building could be divided into office spaces for small business owners in Española to finally afford space outside of their homes in which to run their small businesses.
And what a place for a riverfront park, right there next to the bridge.
The Española Valley Fiber Arts Center is certainly an important anchor to such a dream. The center began in 1995 in a local church with a mission to educate families in the Española area who had inherited looms but didn't know how to use them. Interest was so great that they moved into a rented building in 1996, with a non-profit status following in 1997.
They later purchased the building they are now in, but I couldn't find whether it is the same one they had been renting. Regardless, in the summer of 2017, with support from the National Endowment for the Arts, McCune Charitable Foundations and many private supporters, the gorgeous mural that graces their building was created. Even more exceptional, per their website, "Lead artist Nani Chacón engaged youth from Española, Ohkay Owingeh, Abiquiu, and Ojo Caliente in the painting process, cultivating a new generation of artists…"
They offer classes for all ages and experience levels and also function as a supplier of materials and tools to local weavers.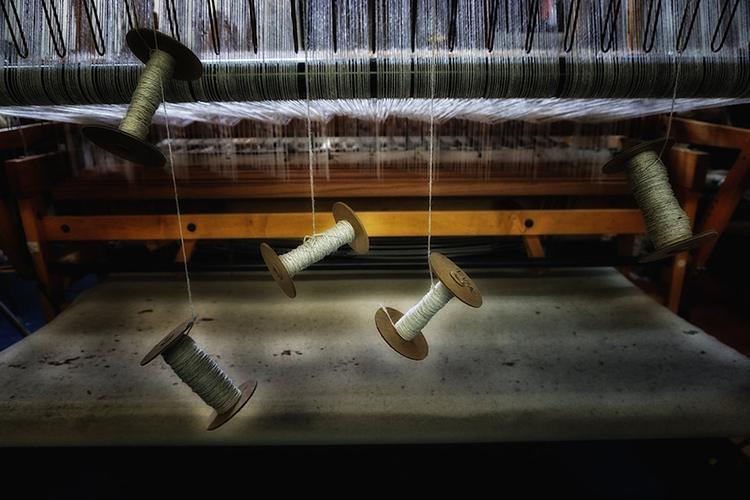 Then there is our lovely little COOP Market right across the street from the Fiber Arts Center, which could definitely use a great mural of its own. I think every building that is moved into should get its own mural, to bring the street alive.
Alison Gillette, director of planning and land use for the city, told the Taos News that a priority in re-establishing the soul of the town must be, "… restoring the city's connection to the natural environment… which also includes increasing Española's walkability. 'We're tucked between these beautiful mountains, we've got a river flowing through town, but there aren't a lot of great places to access it.'" I say we create the Rio Grande Park right there on the new main street and begin a series of walking paths that branch out from it.
Speaking of murals, there is the magnificent mural culture that runs through Española. I've been looking and looking for information about the history of the murals but have only bumped into two sources of information. One, a blog I found in my google search called Dust on the Lens, is a photo blog written and shot by Bridget Harrington and Michael Moore. They say that, "For over 35 years, various civic groups have worked on the spectacular murals that dot the town." For the life of me I can't find that referenced anywhere else however.
Then there is the Hunter Community Mural Project, which I can also find no information about, except for a sign posted on the wall of a mural. It says, "These community murals are a project of Moving Arts Española and were made possible with the generous support of the New Mexico Community Foundation and the Northern Rio Grande National heritage Area…"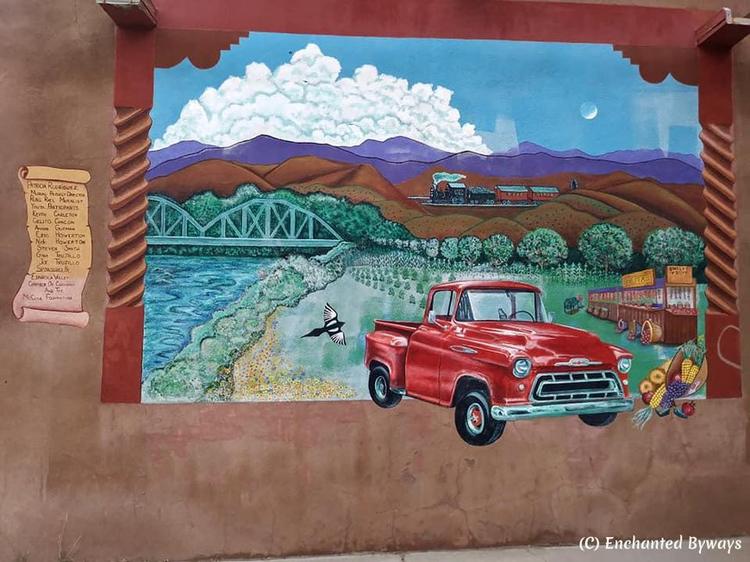 I would like to know more. As I have found more and more of these murals, they seem to be a rather casual affair that individuals take on. I'd like to see it become our own version of the WPA (the Works Projects Administration–an American New Deal agency), hiring local artists and training youth, exactly like the weaving shop mural. I'd like to see the old Santa Fe Highway festooned with meaningful murals.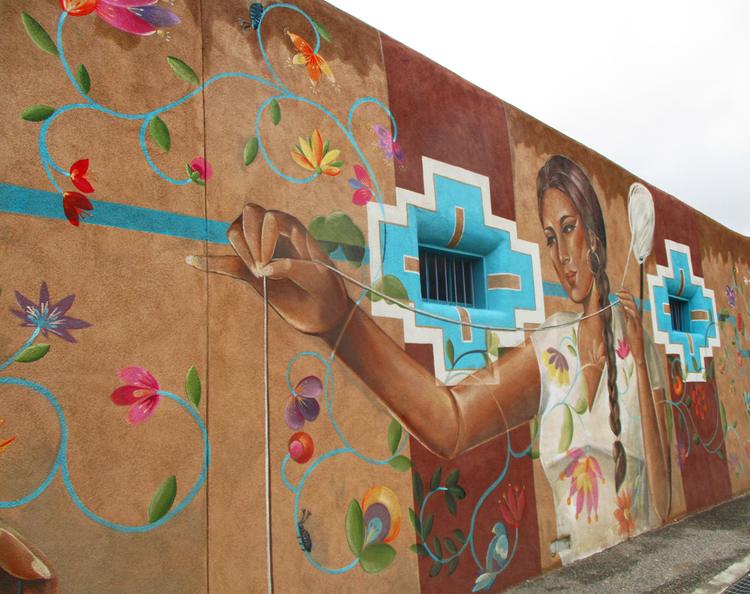 Española needs to represent something of a merging with the Native culture as well. I think the city should tell Española's history in that regard too, maybe with some educational signs along a walking path by the Rio Grande illuminating the fact that a vital civilization existed before the Spanish.
And some adobe structures in the plaza meant to represent the villages the Spanish first encountered–perhaps a native museum and gift shop? Beyond the casinos, please. And some gardens right there in the Plaza, showing Española's farming heritage, Native and Spanish…

It seems the Española Valley has, as the city's website eloquently says, "… forged a unique Indo-Hispano character and culture that defines the Nuevo Mexicana today." So let's embrace and show that multiculturalism somehow.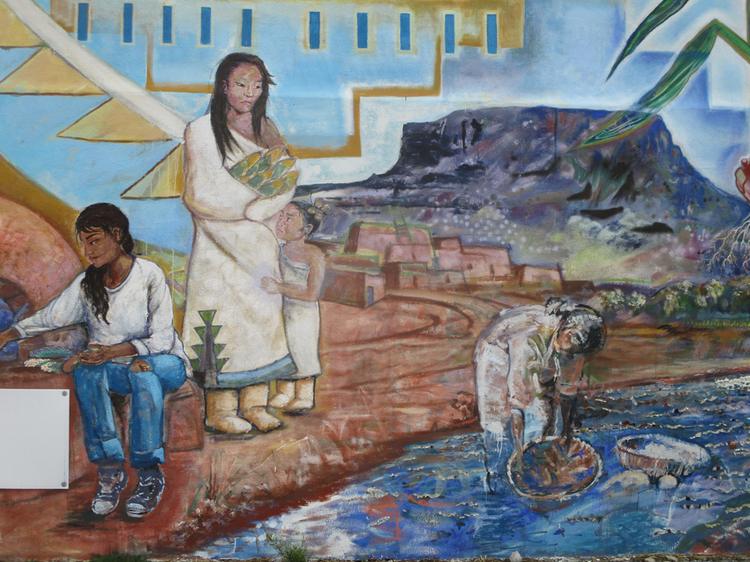 And here we come full circle in this post back to Chimayó Rocks. There's their new building in photos below. Now don't you think it is the perfect blank canvas for a mural showing the Native gathering and use of rock and semi-precious stone as tools and decoration? Merge that with the Spanish seeking gold, silver, turquoise, all the way to present day, including Anglos?
It costs nearly $1000 for a permit for the shop/gallery to paint a sign on the building–that's before they even pay for the sign. This building sits right across from the plaza and at the turn on Oñate. It is perfectly positioned to cap the east end of Española's "old town." I think the city should waive the permit fees and work on grant funding to paint the entire building as a mural commemorating our multiculturalism. This building could be the beginning of a Renaissance. Begin small, but begin…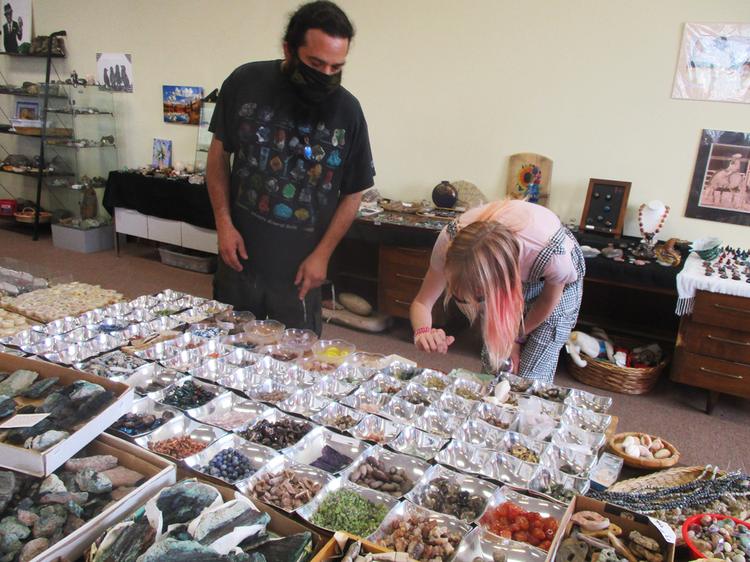 Then there is a vacant lot to the south of the building. Could the city arrange to buy or rent it and organize an artist's weekend market of sorts? Our own flea market kind of thing?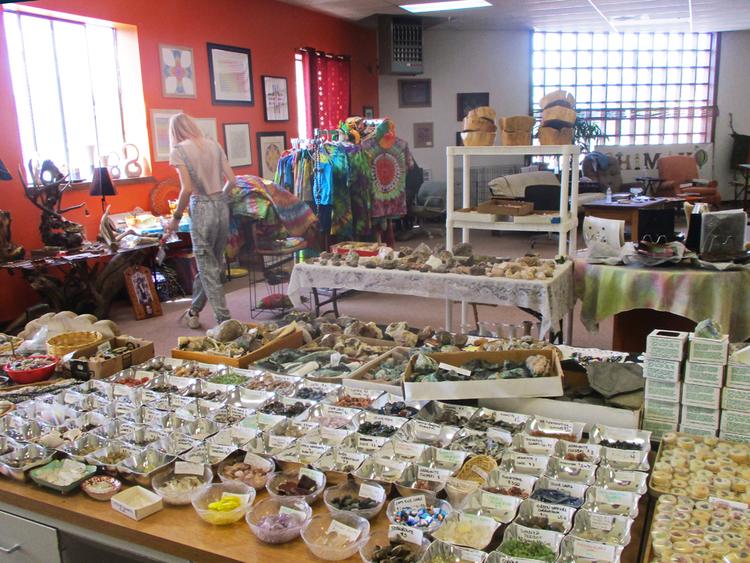 As I said, I've come to love Española and feel that so many resources are simply going to waste. Where do we start revitalizing this one street? Does the city buy buildings, rent buildings? Do we start with Chimayó Rocks? How can I help?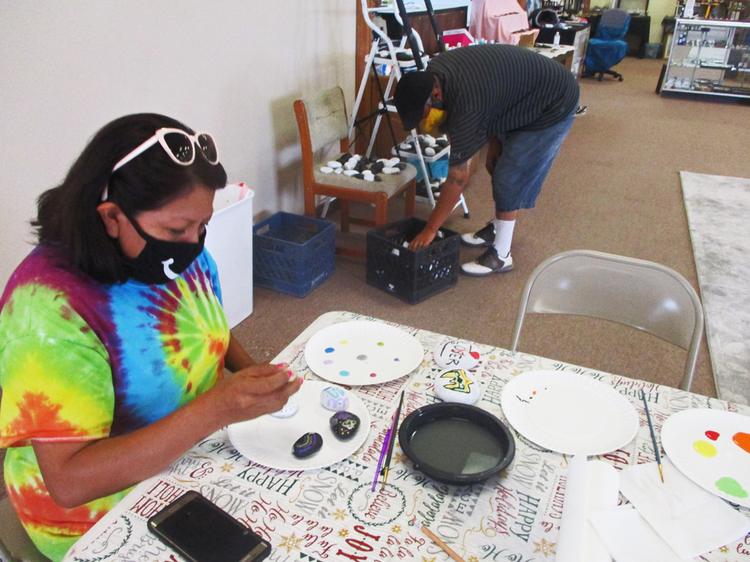 Love to you all,
Jeane