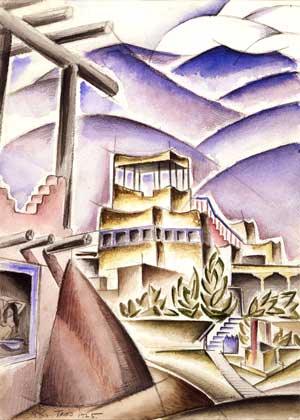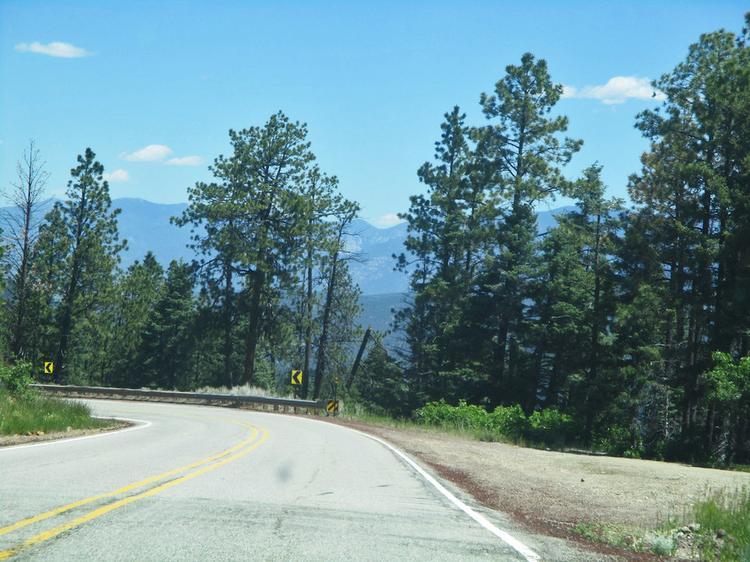 Okay, this time I did go looking for Georgia O'Keeffe. I was inspired by experiencing her White Place the other day (see http://high-road-artist.com/16700/southwest-history/georgia-okeeffes-white-place/.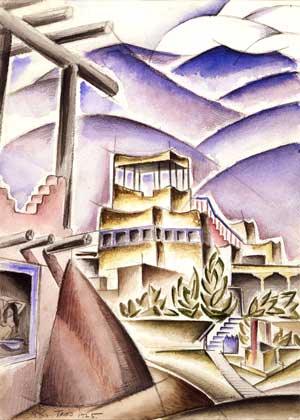 And I was headed to one of my favorite places to stay, the Mabel Dodge Luhan House in Taos, for one night (seehttp://high-road-artist.com/14503/an-artful-life/heading-to-mabels/ and http://high-road-artist.com/14713/southwest-history/we-thought-we-knew/.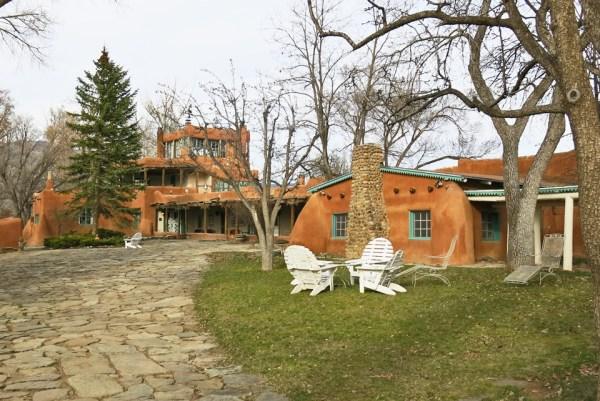 In fact it was Mabel who first brought Georgia to New Mexico so I figured I could find some evidence of her there. Mabel's house was an artistic hub in the 20s and 30s and even into the 50s. Carl Jung, Ansel Adams, Willa ­Cather, Martha Graham, Marsden Hartley, Leopold Stokowski, D H and Frieda Lawrence were all visitors…as was Georgia in 1929.
Indeed Mabel loaned Georgia the little house pictured above (porch only shown), situated on her vast property, as a studio for an entire summer–for three months–and longer should she want it. It's how Georgia first discovered New Mexico and eventually Abiquiu which became her permanent home.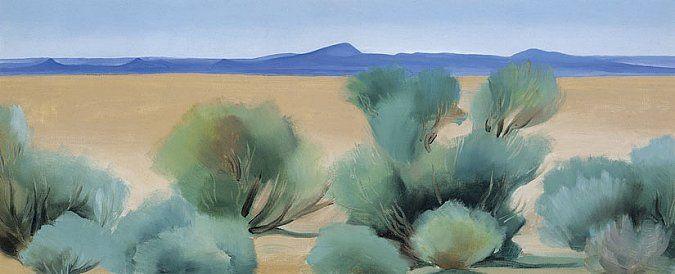 Georgia has said in numerous interviews, "'As soon as I saw it, that was my country. I'd never seen anything like it before, but it fitted to me exactly.' In the harsh landscape she found the perfect subject for what she called 'the Great American Thing' – art of authentic, deep America… "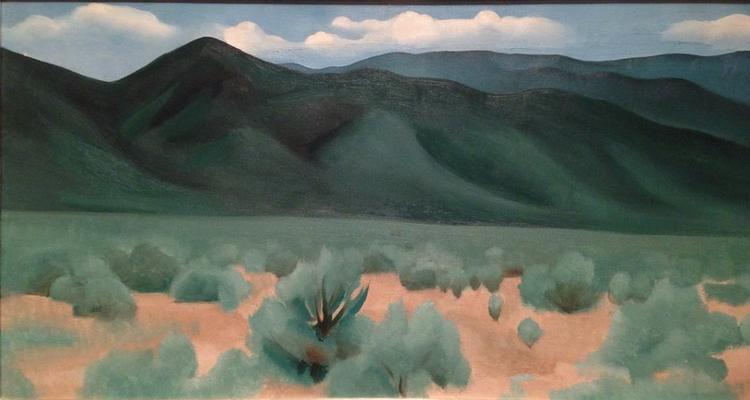 I searched everywhere for a photo of Mabel and Georgia together and came up amazingly empty! I found some of Georgia's Taos paintings…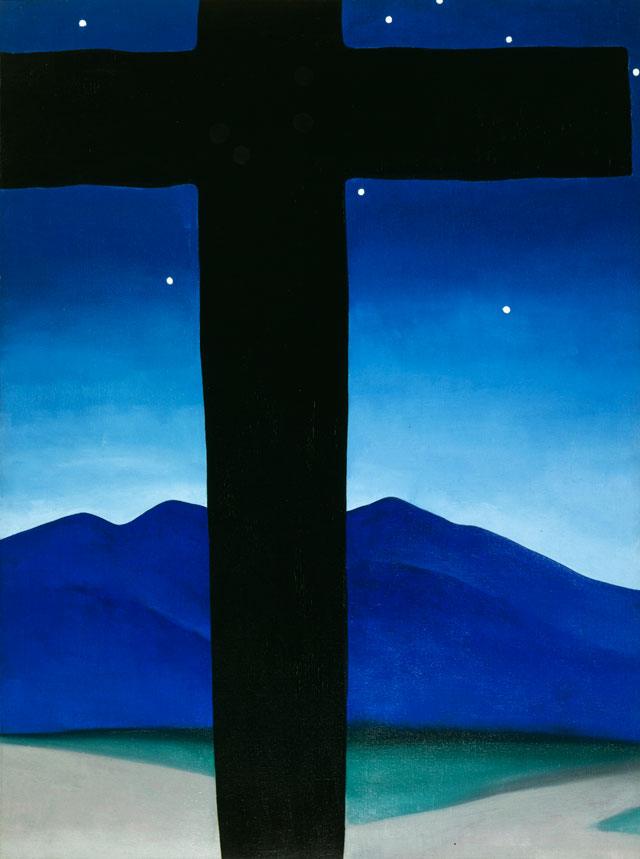 … including her Black Cross which was painted at the morada behind Mabel's house. You can't see the cross from my photo, below, which I took from out on the roof of the house, but it's still there. I was in snuggle mode so I didn't walk to the cross for a photo. Sorry.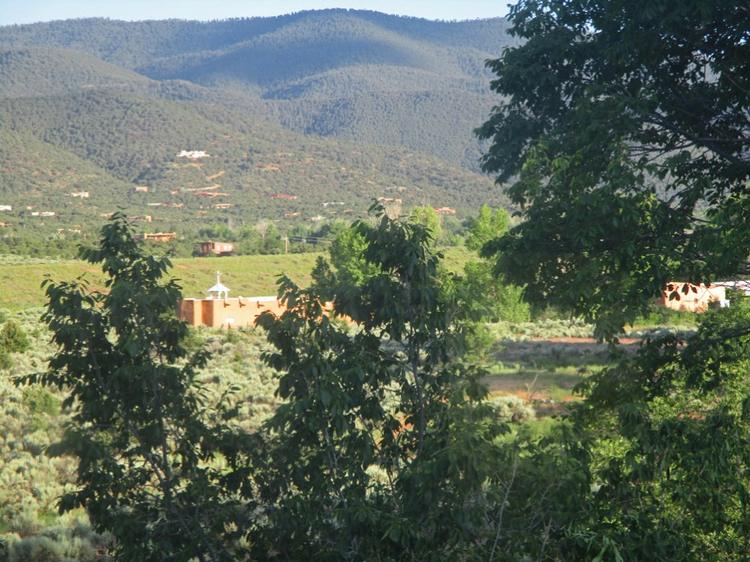 I'm guessing there are no photos of the two women together because there is some truth to the rumors that they really locked horns.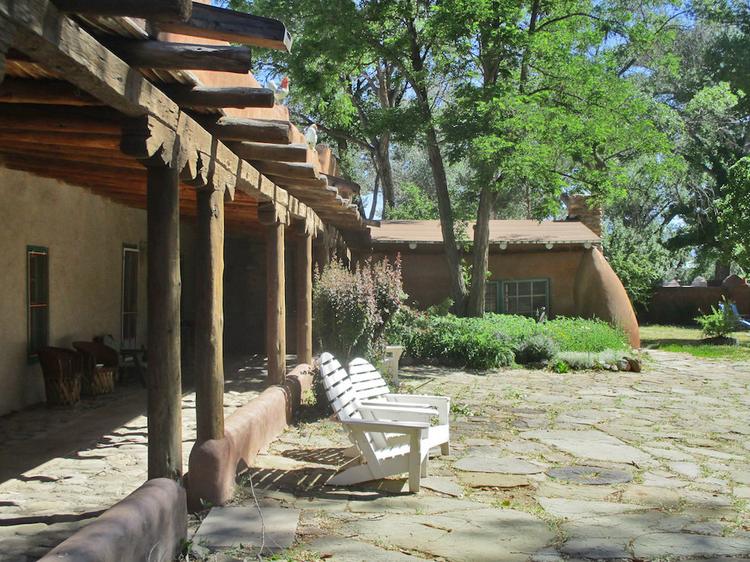 I can imagine the two very strong-willed people, each staking their creative claim to New Mexico's high desert, feeling competitive with each other, each trying to make her mark.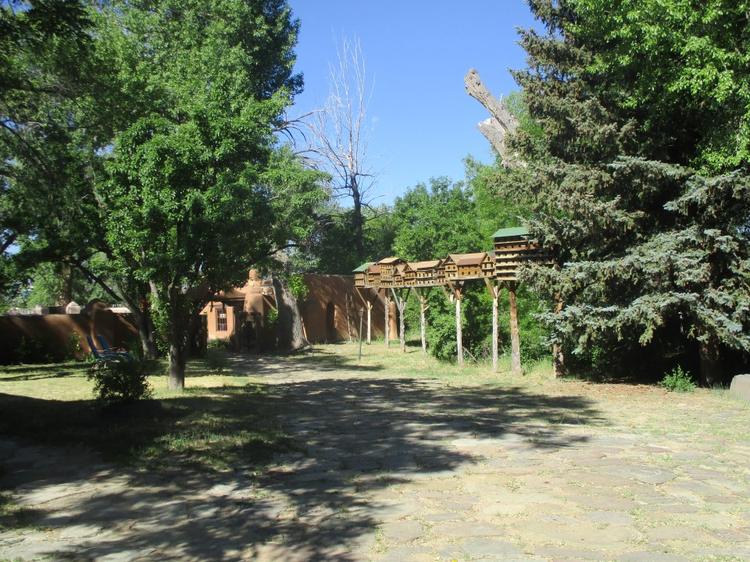 But Mabel felt she needed Georgia who was being heralded as a true modernist to flesh out her cadre of writers, poets and painters…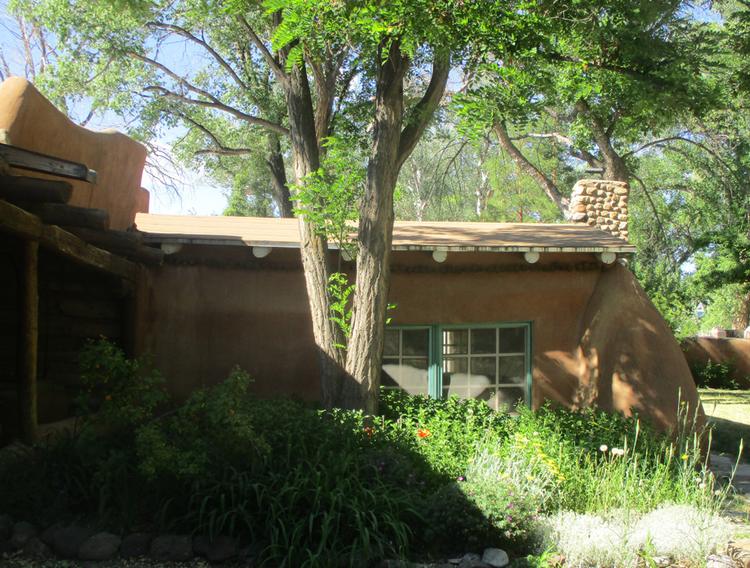 … and Georgia could use the free studio space to stay out west. Her husband was already against her summer away anyway.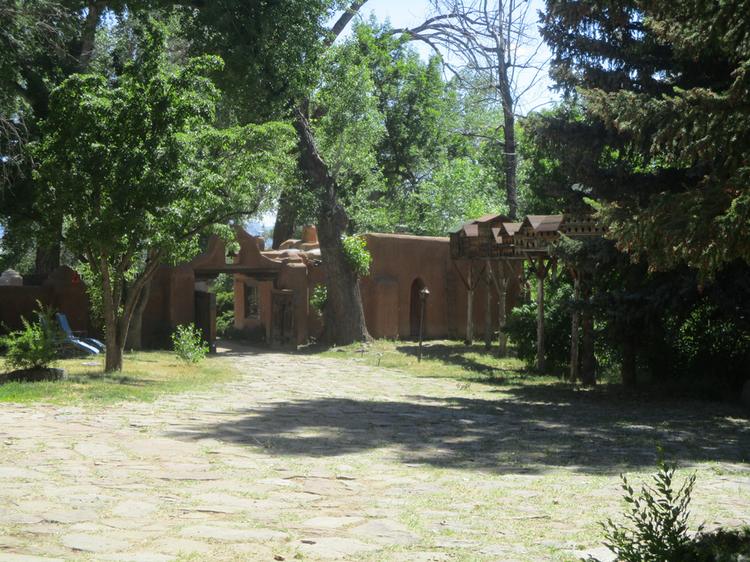 As stated by https://sites.google.com/site/walkingoffthebigapple/iii.fifthavenueandthehighroadtotaos, "When Mabel Dodge invited Georgia O'Keeffe to spend the summer with her in Taos in 1929, O'Keeffe accepted the invitation without first consulting her husband, Alfred Stieglitz, a dominating spouse. She spent the summer there without him anyway, awakening to the possibility she had found a new place that seemed like home."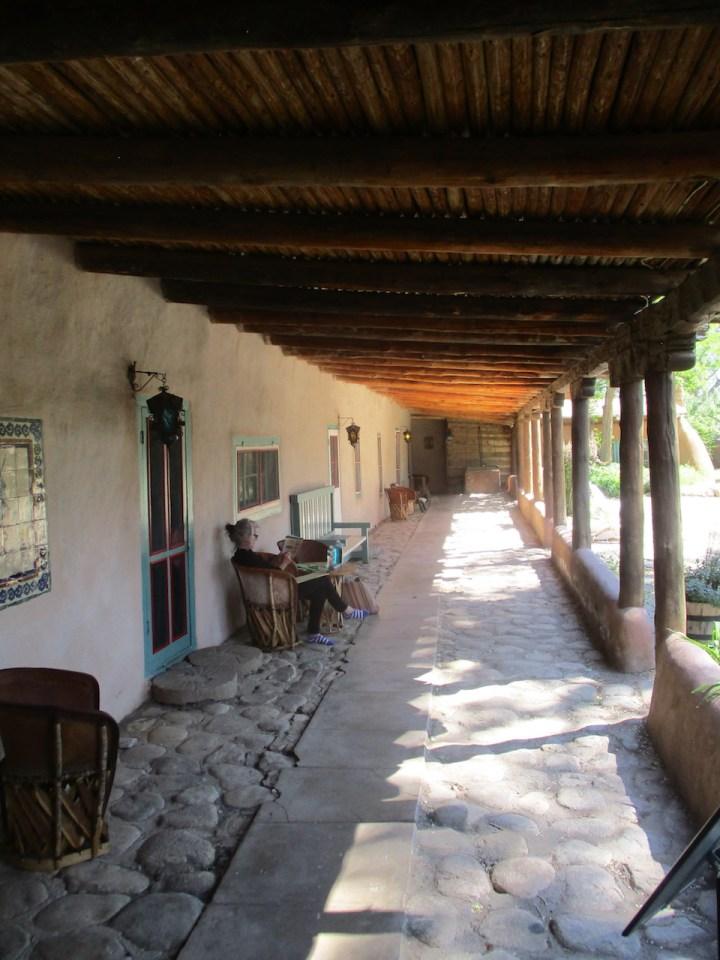 So the two women tolerated each other for a summer–the heiress–a bohemian supporter of the arts, and the artist.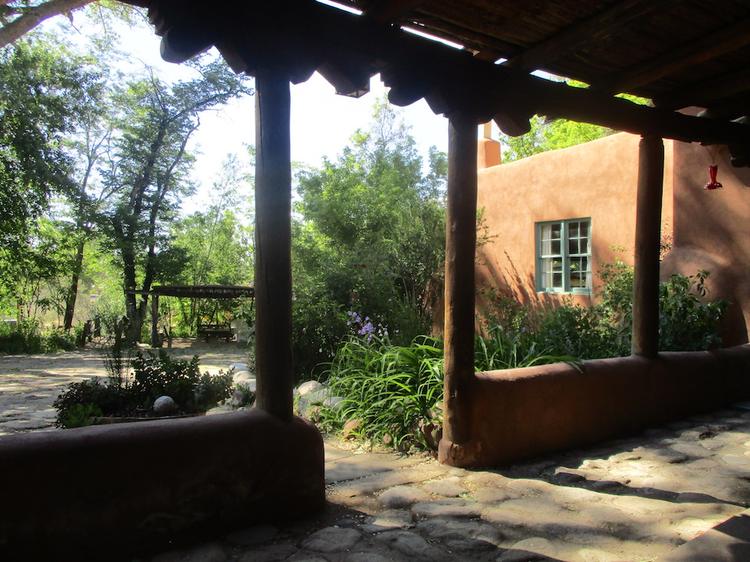 Here's what The Taos News says of O'Keeffe in their article, "O'Keeffe in Taos:" "Dodge Luhan offered O'Keeffe a studio to use that faced Taos Mountain. In front of it ran the acequia madre that divided Taos Pueblo land from the Luhan property, just off Kit Carson Road…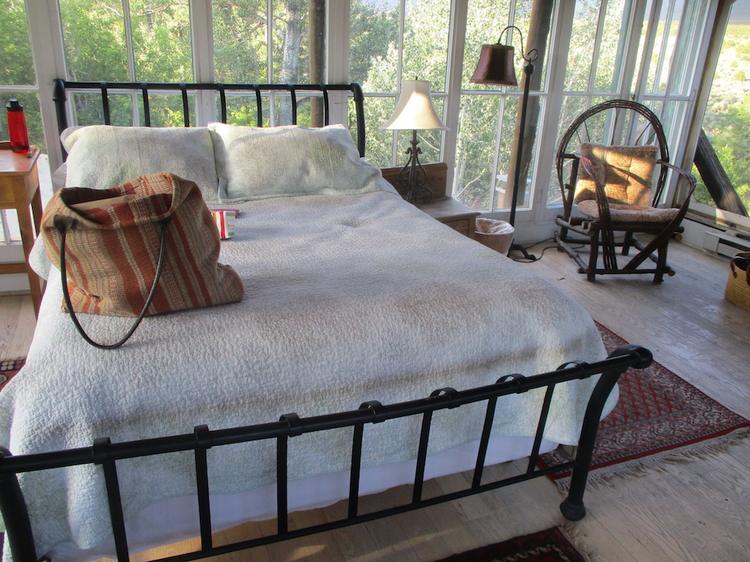 … O'Keeffe often slept on the roof so she could experience the stars' brilliance. It wasn't unusual for her to sleep on the roof of wherever she was staying. 'The night light can now come into me,' she expressed."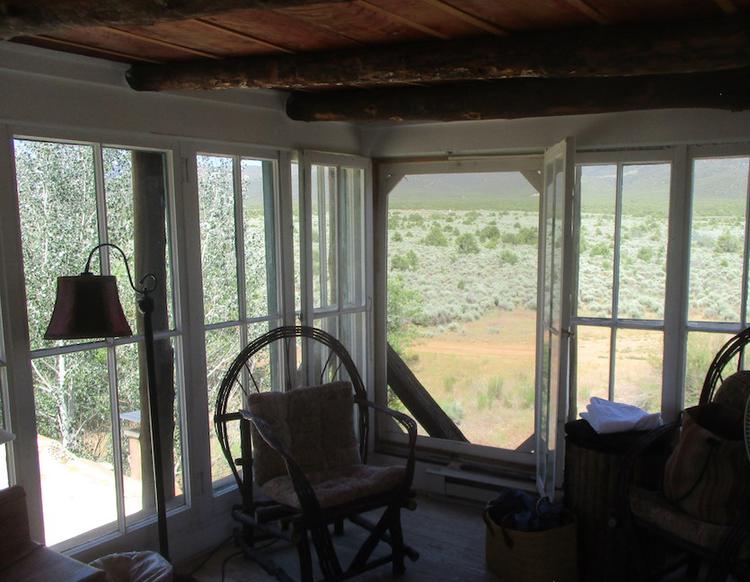 Perhaps it's why I always choose to stay in the solarium, a glass top-knot of a room that caps the house, whenever I go to Mabel's. With the glass all around I'm one with the desert, the mountain and the sky.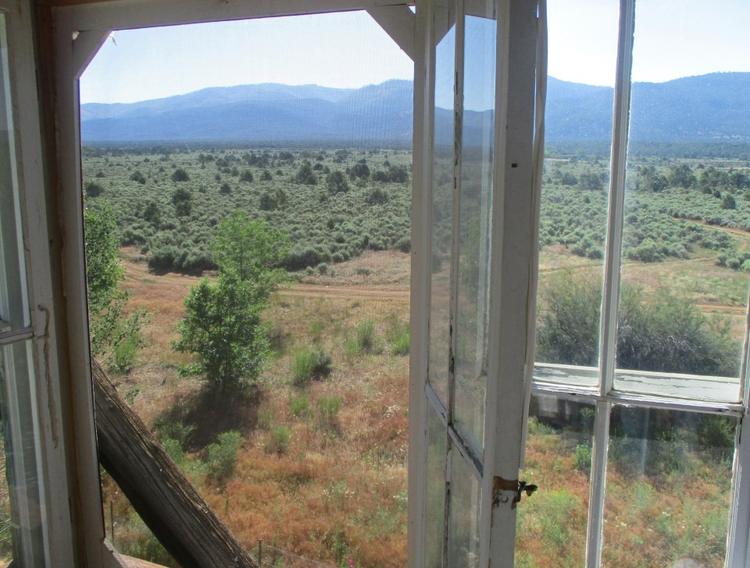 The News goes on to say, "A favorite O'Keeffe activity was an after-dinner ride into the foothills atop Dodge Luhan's white horse. She would rein in the steed, inhale the sweet air, take in a distant landscape and watch the day's sunlight fade."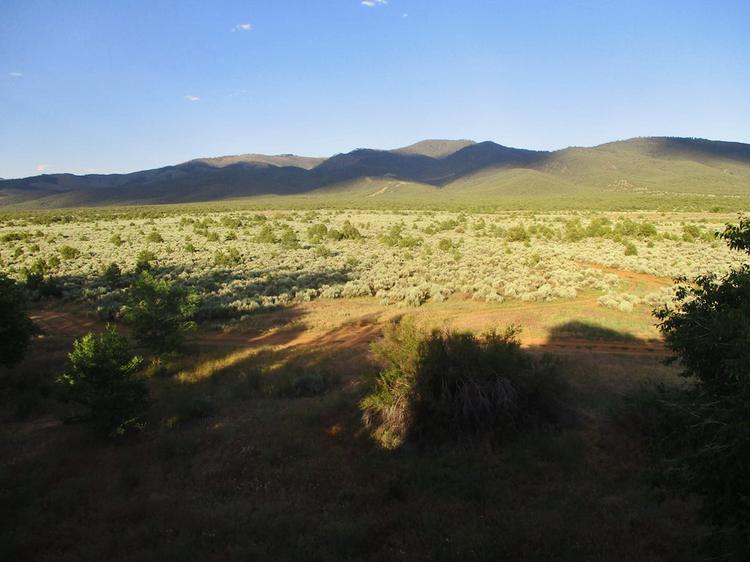 I love thinking of Georgia out there on horseback, right outside my windows. And I wish not for the first time I'd been alive then.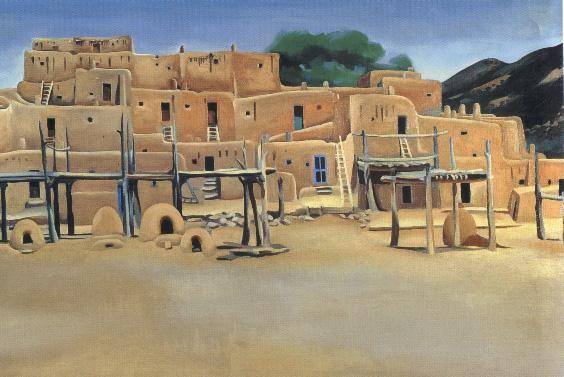 I know she spent time at the ranch Luhan gave to DH and Frieda Lawrence because she painted the tree that stands in the front yard. I read somewhere that she used to ride to visit them on horseback. Having driven to the Lawrence Ranch myself, I understand that's quite a distance!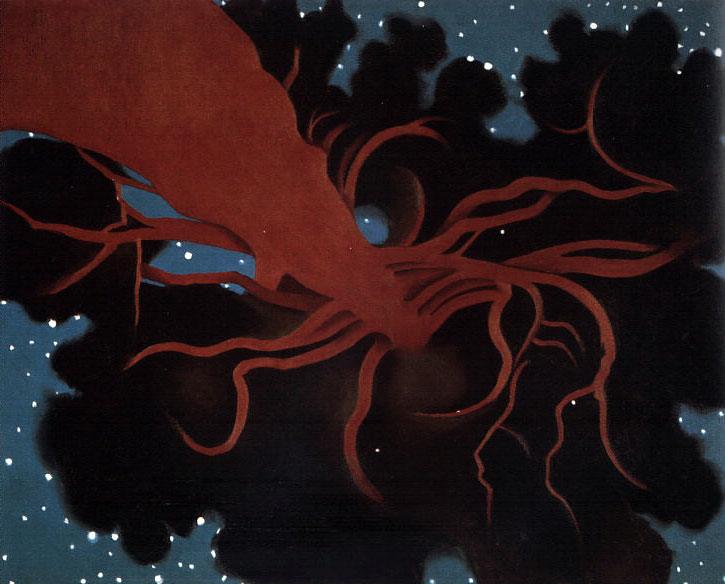 Again according to The Taos News, "If not for Mabel Dodge Luhan's accusation that O'Keeffe was having an affair with Tony, maybe the famous painter would have stayed a little longer in Taos…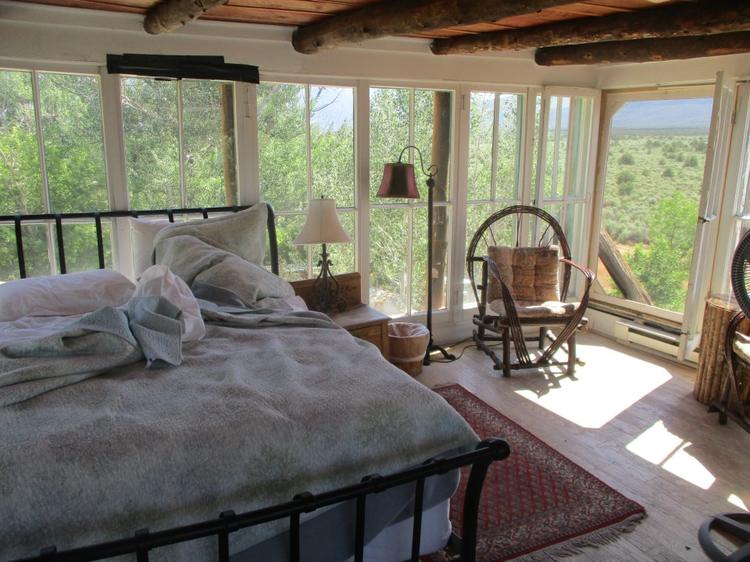 … Having none of that, O'Keeffe packed her bags and never spoke to Dodge Luhan again. Even though Dodge Luhan was generous, in spite of herself she always put her wrong foot forward. O'Keeffe's work was the most important thing in her life. Gossip was like a noxious weed."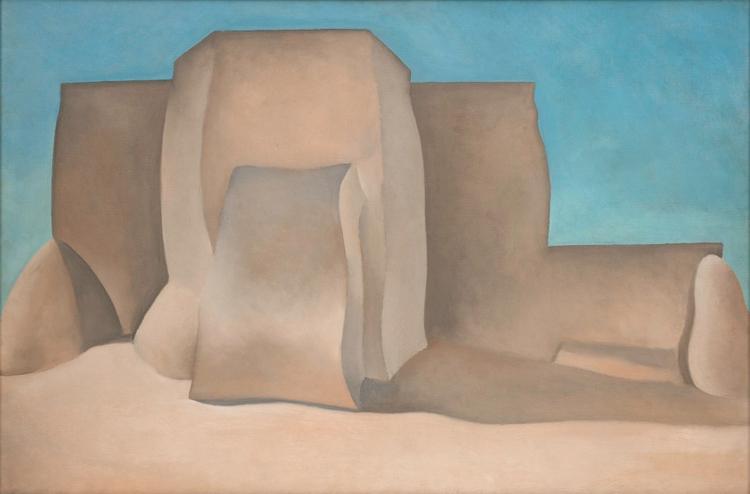 As Georgia famously said, "To create one's world in any of the arts takes courage."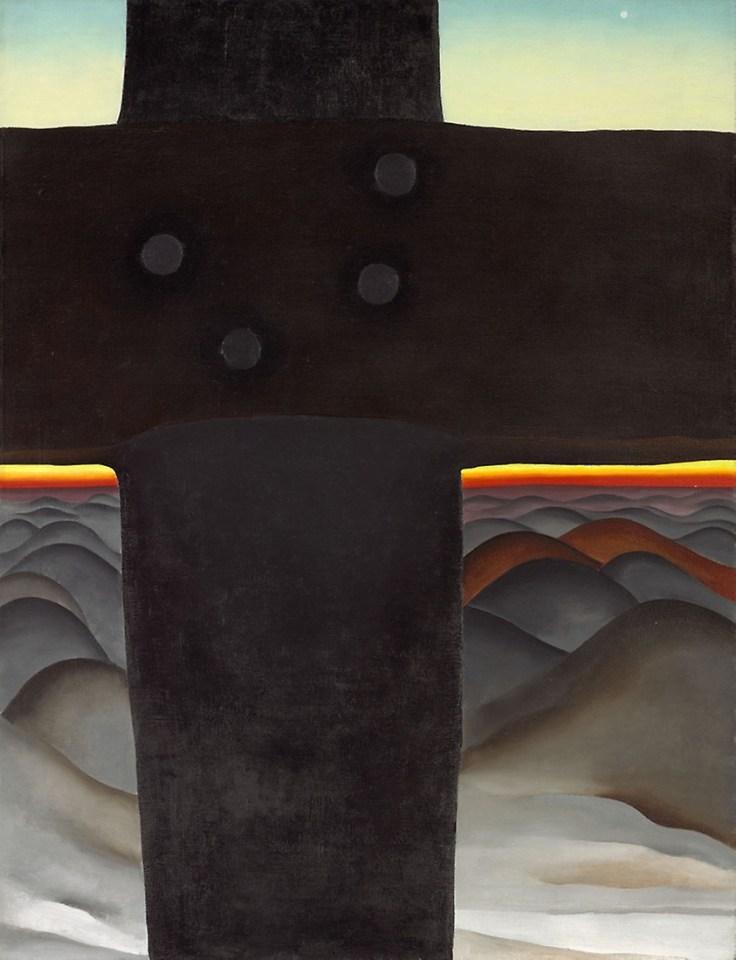 Clearly she wanted to put all of her energies toward doing that. She left Taos behind her for Abiquiu and never looked back. Mabel had done her job, though. She had secured the great modernist for New Mexico.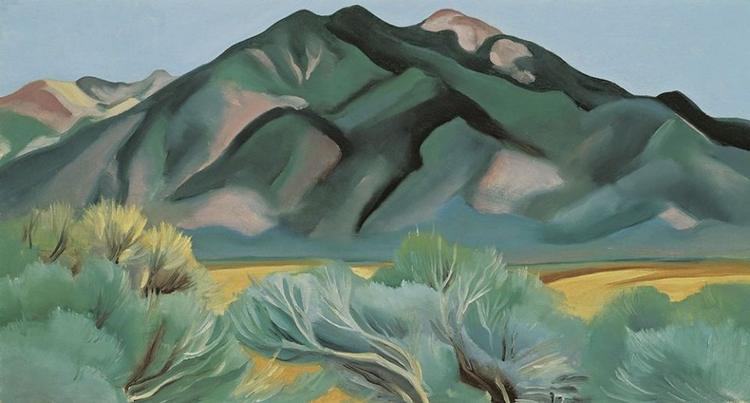 And there is yet another story to tell about this grand old house. Another post is coming soon…
Love to you all,
Jeane