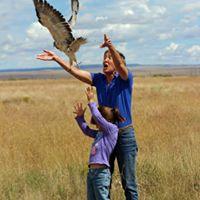 It's been far too long since I've written to you all and there are so many reasons for that. One is that I was busy working with a friend to present a woman from our community as a CNN Hero nomination. Sadly, we didn't win and Kathleen Ramsay did not receive the recognition we feel she deserves, nor did she receive the award money which would have expanded her cause so much. But now I'm free to tell you all about her, her work and her mission.
Let me just say as an opener, Kathleen has given mouth to mouth to a rattlesnake. Now, on that basis alone, I think she should have won, right?
I first met Dr. Kathleen Ramsay the day the vet I'd been using couldn't fit my dog in for a serious crisis. I called Ramsay's clinic and she took him in. His hind leg had to be removed in emergency surgery.
While sitting and comforting my boy, as they were readying him for surgery, a couple came in to pick up their dog. They peered in as Ramsay opened the barred door and the woman gasped and started to cry. She kept saying, "She's back! It's our girl!
I gleaned from their conversation that the dog had been shot in the face. Ramsay explained to them what she'd done. Apparently, she'd developed the procedure after reconstructing the face of a bear that had been hit in the head with a hatchet and then caught in a trap. (I learned later that she brought him in with the hatchet intact, splitting his skull down the middle—it's a long story, yes, she has lots of them—but she named the bear Davey Crockett and when his fur came back in, that slash grew back white).
She told them that the sinuses were always the biggest challenge but that their dog's surgery had been a success. She had used bone from its floating rib, like the one we all have, to form the dog's sinuses.
And fashioned some plastic straws to function as the nasal passages until everything healed and she could remove them. Not only had she saved this dog's life, she'd also reconstructed her face bringing her all the way back to looking like her old self.
A miracle I thought. And it's true: Dr. Kathleen Ramsay is herself the miracle.
Kathleen Ramsay describes her childhood this way: "I was born in Los Alamos, which at the time was run by the Atomic Energy Commission. My father was a chemist working on explosive detonation. So, it was a different kind of community. Almost all the adults had master's degrees and Ph.D.'s, and there wasn't a lot for kids to do. But I did have a horse. I'd disappear after school and come home at dark, and if Bobbins ever beat me home, Mom knew there was a problem."
On his back, she explored the vast acres of ancient desert both up high on the mesa where Los Alamos sits and deep into its surrounding canyons. Having been born with a keen curiosity and a scientific mind, she studied the wildlife that proliferated there and the land itself, getting to know and love the fragile ecosystem of the high desert.
At 18 she discovered her first tumor and was diagnosed with Neurofibromatosis, a genetic disorder "… that causes tumors to form on nerve tissue. These tumors can develop anywhere in your nervous system, including your brain, spinal cord, and nerves…" mayoclinic.org. She still has it today. She used to go four times a year for chemo. At 62, just this year, she finally has that down to two.
In her junior year at New Mexico Tech, considered to be one of the best small science and engineering schools in North America at the time, Kathleen and her roommate were discussing their futures. Neither could choose between being a vet or a doctor, so both decided to apply to a veterinary school and a medical school. They agreed they'd take on the studies and the profession of whichever one accepted them.
They were both accepted into Colorado State University's Graduate College of Veterinary Medicine. They were going to become vets.
It was during her veterinary training that an event occurred to shape her life. Somebody brought in a golden eagle caught in a trap, flapping and screaming, in pain and distress. At the time there were no wildlife veterinary classes and there were no wildlife vets. But it was in that moment she knew she would have to find a way to offer these birds a second chance.
Kathleen said, "I'd decided that the one thing I wanted to do was to make a difference for these animals." In addition, she thought, "If I could teach one kid every year the value of the animals they have around them, I've done my work in society."
She and a friend who, later, ended up working for the Albuquerque Zoo, along with several other veterinary students, decided to get an exotic animal club going at Colorado State University. So in 1977, when they were Freshmen and Sophomores, they got it started, and that was the beginning of avian medicine. "So, how did we learn?" she repeats my question, "We're still learning."
She tried working for a more conventional veterinarian practice but found her employers unhappy when she'd sneak in at night to perform surgery on injured wildlife.
So in 1984, Ramsay opened a clinic next door to her home that would become her veterinary practice. She called it Cottonwood Veterinary Clinic. That practice welcomed the wild, and it didn't take long before she started getting calls from all over the state. This was what she'd envisioned and dreamed of, a place where injured raptors would find medical care and rehabilitation, but her little facility was getting thinly stretched with all the cats and dogs that were coming in as well.
In 1986 she created Northern New Mexico Raptor Rehabilitation and Education Center on the same land and began repairing and rehabilitating the magnificent birds in earnest. She addressed their medical needs in the clinic's operating room but then housed her wild patients, for the duration of their recovery and rehabilitation, in her "backyard."
This consisted mainly of enclosures and flights. Flights are structures that give birds the length of flight space they need to build up their muscle and stamina as they recover from their injuries and are rehabilitated. They are built in different lengths to accommodate all levels of a bird's recovery—starting first with a short flight and increasing the length to accommodate stronger and stronger birds.
They're very expensive to construct so Ramsay doesn't currently have one large enough for a full-grown eagle. They must either go to Desert Willow Wildlife Rehabilitation Center in Carlsbad, (Desert Willow houses the largest flight cage in New Mexico. But even more important than it's size is the fact that it is round. This allows a bird to fly more naturally, as it would in the sky, without corners), or the Santa Fe Raptor Center located in El Rito. Both centers are operated by individuals who were mentored by Ramsay.
Although Ramsay's real interest, in the beginning, was raptors, more and more mammals were coming in, so her Center would later morph into the Wildlife Center, which moved, eventually, to the old Rio Arriba County Fairgrounds land. By then Ramsay had expanded her work to include more mammals.
When asked during an interview with National Geographic what prompted her to start treating other kinds of animals she said, "Well, all these mammals kept showing up. What was I supposed to say, sorry, I only do birds, so now I have to kill you?"
Eventually, her dream outgrew the land on which Kathleen and her husband had settled. While keeping Cottonwood Veterinary Clinic in place, they bought seven acres five miles north of Española and put in a septic system and water. That was all they could manage at the time. So for the first ten years, they lived in a trailer as they built what they needed and could afford. The property continued to grow organically from that.
Three of those seven acres are dedicated to her wildlife rehab work. There are two tall locked security fences past which few people are admitted. And no talking is allowed beyond them. She doesn't want her wild ones getting used to hearing human voices. This is only one of the practices put in place to keep the animals untamed.
The enclosures that hold the furred and the feathered are also situated to give them as much of a sense of safety as is possible. Unlike zoo animals, they are not on display and they have plenty of places to hide from humans.
Kathleen is virtually on call 24/7, every day, year in, year out. Her emergency room is always open for wild animals, and in the summer, when all of her enclosures are full to bursting, the overflow comes into her home. It's not unusual for her to call out upon entering her household, "Don't use the downstairs bathroom I have a hawk in there…" or a bobcat, a raccoon, a fawn, a litter of foxes…
They come to her broken and scared, weary of the world, some near death, and she takes them in.
Or she goes out across the desert, into the forests to wrangle them herself. She patches them up if she can, rehabilitates them, fattens them up and releases those that can make it, back into the wild, often driving 100 miles or more to personally release them back from where they came.
She has sculpted a new beak for an eagle (as well as those of songbirds and parakeets… you name it) using fiberglass epoxy resin. She thought of it because she regularly uses the same resin on turtle shells. I guess when a shell splits, a common injury when they're hit by cars, it won't grow back for a year, so Kathleen started mending them with the resin very successfully.
She's put "pins in Raptors' wings, set broken limbs, fattened up malnourished frogs, rebuilt the tongue of a toad…" The surprises and complications are endless, but it seems she can figure out a solution to almost any trouble a wild animal finds itself in. Although roughly 45% are too damaged to save, at least she can humanely put them down and release the other 55%.
If there's no money for costly rehab, she either finds it or absorbs it. But she works at giving every savable animal she takes in a second chance, all the while pestered with having to take time out to fundraise. She says fundraising is probably her biggest issue.
At 55, Kathleen's husband, Lou, was diagnosed with a progressively debilitating brain disorder, Progressive Supranuclear Palsy, PSP, but Kathleen saw the signs of it long before that. By the time he was finally diagnosed he was 7 years into the disease. It advanced to total incapacity by 2011. She managed his care at home for the first twelve months, once he'd come to that, all the while maintaining her veterinarian practice. But it forced her to leave the Wildlife Center, by then strong enough to do without her. These days it's called the New Mexico Wildlife Center and it's still thriving.
Eventually, they were able to get round-the-clock in-home nursing care, paid for by Los Alamos Labs and the Department of Energy's Crisis Management Funds, which continued for three more years until Lou was gone. The Lab has a set aside for such people because of the high incidence of various forms of cancer and cancer-like illnesses surrounding the area. They do this not because anything has been proved, but because the question exists and it's not been unproven.
In 2003 Kathleen broke her back while rescuing a bobcat cub. She'd followed it up a cottonwood tree and the thick branch she was standing on had rotted in its middle. It gave way as she struggled to reach the animal and she fell 20 feet, landing on her bottom. That drove her spine from her pelvis up her back to the base of her neck, shattering two vertebrae. The paramedics "were just scared to death of that bobcat," Ramsay said, her face crinkling in a smile. Her son, aged 7 or 8 at the time, darted the cat the next morning and brought it in. And Kathleen had metal rods placed in her back.
It was during her convalescence that she and several friends were kicking around the whole wounded wildlife problem. They were asking what was needed next. And that's how the four or five of them conceived of the Foundation Ramsay was later to create.
On July 15, 2012, she co-founded Land of Enchantment Wildlife Foundation (LEWF) with those same friends, and on June 30, 2014, LEWF received its 501 (c) 3 non-profit status from the IRS.
LEWF's mission is to help the wildlife of New Mexico by providing financial and logistical aid to the people who help rehabilitate the animals of New Mexico. This will be done by providing those operations with assistance in building enclosures, transportation, medical treatment, food, and volunteers, as well as wildlife education.
There is no ego in any of this. Ramsay says it's never been about her. It's always about the animals. She doesn't compete with other wildlife organizations in the state. In fact, she created the Foundation in order to support not only her own efforts but theirs as well.
As to her veterinary practice, she opened Cottonwood Veterinary Clinic, consciously choosing to put it in Española, New Mexico, a poor, somewhat troubled area, because there just weren't any clinics there (it wasn't where the money was). And she set her fees accordingly, lower than the going rate in the more prosperous surrounding towns like Santa Fe and Taos.
Over the decades since 1984, she has educated and guided a population that did not grow up respecting animals, which saw animals as a commodity, and has shepherded them into being loving pet owners. And if ever someone cannot afford a necessary procedure, she's set money aside to help. It's called the "Ginger Fund," another long story… In my decade of sitting in the waiting room, I see the change.
The other education taking place in her clinic goes to the many interns she welcomes. From her waiting room, I've seen some tough-looking, tattooed, young people turned into capable, nurturing, knowledgeable caregivers. And some of them have gone on to become vets themselves, one of whom works with Dr. Ramsay at her Cottonwood Veterinary Clinic. But all of them are gaining a second chance because Kathleen Ramsay has seen their worth and, like the animals, she's intent on giving them that.
Ramsay's wild patients represent the untamed world we're running out of space for. So she takes them deeper into the mountains and forests, back to where she hopes the sweep of time may forget them and leave them in peace.
Winston Churchill famously said that "Success is not final, failure is not fatal. It is the courage to continue that counts."
And mercifully, Dr. Kathleen Ramsay does just that. She continues.
Love to you all,
Jeane