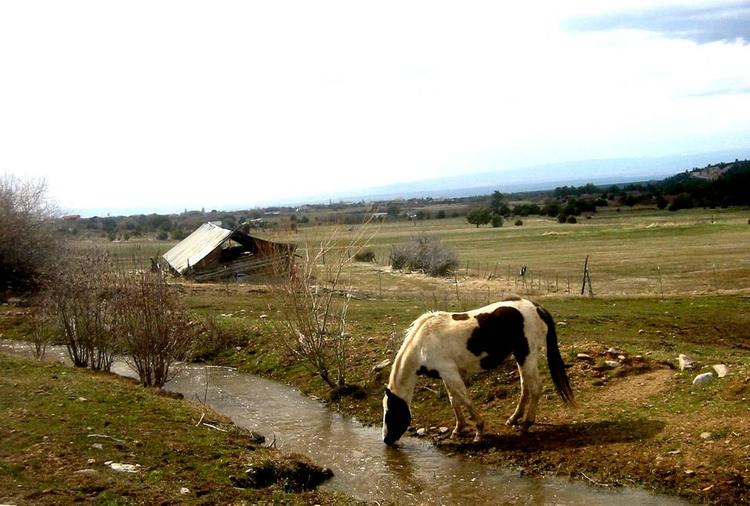 I know that any of you who have been following the blog already realize there is something extraordinary about New Mexico. And something even more special, as in anyplace we discover, are the tucked away little places we remember with fondness while not quite remembering how we found them in the first place.
A friend of mine, up here in Truchas, holds just such a place in keeping for us. I think of her home as something of a museum and it never ceases to take my breath away whenever I walk in (we have found sometimes Sundays as a time to curl up in her soft couches to watch carefully selected movies and BBC TV series over glasses of Prosecco, chocolates and nibbles).
I think Lorey's home feels as rich as it does because she, herself, has brought her own vivid spirit to it. She arrived in Truchas many years ago now and her curiosity about this blended trio of cultures in our state, the Indians first, the Spanish, and then we Anglos, shows itself in the various collections in her home.
My friend is the kind of person who moved into this old village, founded in 1754, and started getting to know it by getting to know its people, the elderly, the spiritual, the artful, the odd.
Endeavoring to encourage the old ways, she nudged me toward the village Curandero, or healer, wanting me to write a post about her before she was gone. But, as these old villages can, old ways die when the young people no longer want to learn and practice them. I didn't get to that post in time, a regret I still feel rather keenly.
There is a book titled The Myth of Santa Fe with a first part whose title I love which is: Santa Fe Before it Became a Style. And that's what Lorey has put together I think. Her place is not southwestern, nor Spanish, nor pueblo, nor Santa Fe. It's her own personal mix of all of the above with a dash of New York and England thrown in for good measure.
By bringing beautiful pieces into her life, because they catch her eye but without a conscious design in mind, she's created her own gorgeous "salon" within the mud and straw walls she calls home.
And in addition to that, she operates a lovely B&B. Her Northern New Mexico Getaway can be booked via VRBO at: https://www.vrbo.com/405707, or via Airbnb at: https://www.airbnb.com/rooms
We have, here in Truchas, what Santa Fe once had, well, before it became "a style." There's just no better way to say it…
Truchas is still very old and rough-ish around the edges (though not as rough as it once was). That's a big part of its charm and one element of what I love about it here…
And within this enduring adobe village, Lorey has created an oasis that reflects her own choices while honoring the past and showcasing some of our varied cultures.
The B&B is a bit hard to describe. It's a modern addition to Lorey's old house and is within her home, but is completely separate from it and has its own private entrance and porch.
She has 2 1/2 acres and guests are free to wander the property, lush with old plantings and some items Lorey has added as well.
The B&B is pet friendly and your fur family is also welcome to enjoy her fully fenced property.
Your entry door brings you into a small sitting room which is cool in the summer and warm in the winter…
… heated as it is with its own wood heater and stocked with books (a different kind of warmth). I tell you that's MY kind of nest!
This is where your breakfast is served each morning…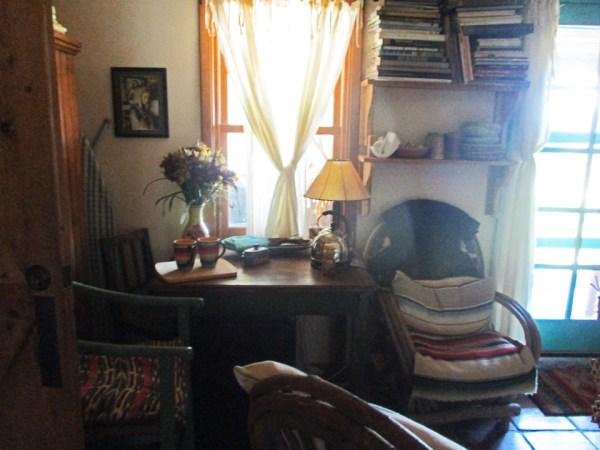 … consisting of fabulous homemade muffins, fresh fruit, yogurt, coffee, tea and juice…
I hardly know where to take you next. But if you turn to the east from the sitting room you'll find yourself in a rather charming hallway (which is also all yours). This is the only shared wall between you and Lorey's home and it will take you to your own private bathroom and a laundry room for your use…
Turning back to the west you'll withdraw through the sitting room again and into the main bedroom…
… which is so much more than that, having its own sitting room, complete with a fireplace and wood heater.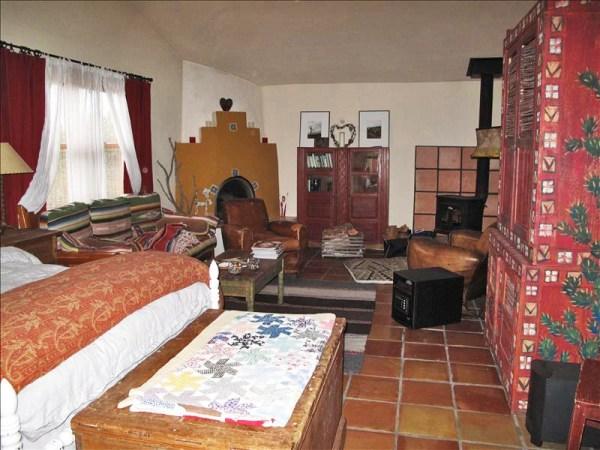 It's a luscious space…
… that is difficult to represent well in photos… So you'll just have to come see it for yourselves.
And there's more…
… should you need it there is a second bedroom…
So now there is but one thing left to do. Come see us!
Love to you all,
Jeane